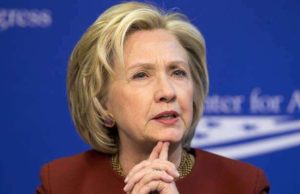 Presidential hopeful Hillary Clinton may find that her careless handling of her email account may result in some uncomfortable consequences, specifically her understanding of the term 'oral sex'. According to a source investigating the leak it was more than three years after Bill Clinton left office that she first realized what the phrase meant.
The confidential memos between Mrs. Clinton and an aide are said to reveal that she believed oral sex referred to 'talking dirty' rather than an actual physical act. That might answer the vexing question many voters have long had as to why she stubbornly stood by then President Bill Clinton. At the same time it may also explain why he found it necessary to find a willing partner rather than his wife.
In memos to her friends Mrs. Clinton unknowingly defended her husband for years under the assumption it was 'much ado about nothing' and a 'typical right wing hatchet job.' An apparent falling out with an individual, whose name was redacted, resulted in an email in which she was told of the term's true meaning. Still believing such a thing 'wasn't even humanly possible' she rebuked her friend who then forwarded her charts, graphs and illustrations.
A series of emails followed in which Mrs. Clinton raged against not only the person who made her aware of the 'process', as the former first lady called it, but the many others who for years chose to let her believe otherwise. She also noted that she has come to realize that the phrase 'blow job' did not refer to short-term employment as some members of the White House staff had told her.
When asked directly by a reporter about the emails during a recent campaign stop Mrs. Clinton offered a terse 'no comment'.