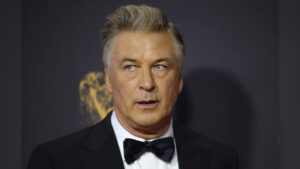 Actor and producer Alec Baldwin is now reportedly saying that he "wasn't even there when the gun went off " on the set of Rust killing cinematographer Halyna Hutchins and wounding director Joel Souza. Rather, Baldwin is said to claim that it was one of his "out of work brothers that needed a job so he let him stand in during the rehearsal."
The report, from a person familiar with the actor's inner circle but who asked not to be named, says that's why Baldwin has been frequently revising his part in the tragedy. According to the source, Baldwin wouldn't say which of his sibling's was filling in for him because he "isn't the sort of person to shy away from accepting blame but merely wants to set the record straight. In truth, he had snuck away to have a cigarette while one of his nearly identical looking brothers stepped in at the time of the shooting."
The actor's latest statement adds to already bizarre story line that has had more rewrites than most Hollywood B movie scripts. At first, he admitted to firing the gun and quickly offered his condolences to those directly affected while publicly maintaining a fairly low media profile.
As time went by, however, Baldwin began to give a series of roadside and national interviews to aim the blame at various members of the crew while distancing himself from involvement in the tragedy. In addition, he has also denied any knowledge of the well documented complaints from members of the crew concerning working conditions and safety on the set.
Baldwin also has gone on record proclaiming he "would never point a gun at anyone and pull the trigger at them, never" as if that hasn't happened at any time in his career. He is also believed to have told confidants that his involvement as a producer of the film only went as far as putting his name on the call sheet so he "could fire anyone who stared at him when he read his lines."
As of late the Emmy award winner for his role as the self-absorbed and bombastic executive in NBC's 30 Rock has resumed posting photos of family social gatherings, out of town jaunts and snaps of him and his wife Hilaria enjoying the lifestyle of the rich and famous.
Baldwin, recently the host of the dating show 'Match Game', summed up how he sees his role in the tragedy by telling ABC News that "Someone is responsible…but I know it's not me."  However, the Santa Fe County  Sheriff's Office still considers him an "active part of the investigation."
Said one Hollywood insider, "Baldwin's living in his own world believing what he wants to. And Ironically that's the kind of self-delusional thinking that he often mocked when it came to Donald Trump."
Gil Prowler writes political and social commentary