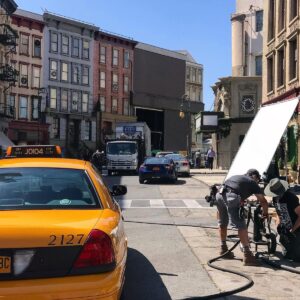 The City of Los Angeles is considering moving hundreds of homeless people to motion picture studio backlots where they can settle down on streets lined with building facades and other realistic but fabricated surroundings.
A high-ranking city hall official familiar with the discussions, but not authorized to speak publicly because of the sensitive nature of the subject, said that talks are underway with a number of major studios along with social service agencies and law enforcement to study the feasibility of the plan.
"The idea is to temporarily transition those in the unhoused population who are resistant to public shelters to an environment they are familiar with," said the official. "Many studios have free standing cityscapes that resemble the neighborhoods they already populate."
Without going into specifics, the official said the city is prepared to pay rates comparable to those that filmmakers spend to lease the space. The city will also pay for support staff, food, sanitation, security and other costs to ensure that there are no disruptions to filming elsewhere on the lot.
In addition, said the source, they would "hire out of work actors, ride sharing drivers and retirees to mingle with the street people to give them a sense they're actually in a real world.  We're also excited that along with the urban sets there are some other areas that resemble ancient Rome, rural Mexico and middle-class suburbia we can offer them."
With the increase in green screens and other digitally enhanced editing tools available to filmmakers, producers don't use studio exteriors to the extent they once did. City officials think they can utilize those locations until other long-term accommodations can be found.
Residents who live near the homeless have become increasingly vocal about the lack of progress in removing them from their blocks and nearby parks. Along with a rise in street crime there are issues of hygiene, harassment and declining home values.
Mark Miwords, a spokesperson for a community group called Try Living Here, said that "elected officials come through here, talk the talk and then walk the walk to their homes in some gated hideaway.  If I had a nickel for every one of their solutions that goes nowhere, I'd have enough to pay the homeless to leave."
A transient, who gave his name as Jimmy 'Krack' Corn, said he liked the idea of living in 'studio apartments' referring to the boxes and tents that would be erected outside the building's plywood facades.
"Call me crazy," he said, "but it's pretty exciting to think I could be laying and urinating on the same sidewalks and alleyways where stars like Pauley Shore and Bugs Bunny used to work."
Gil Prowler writes political and social commentary