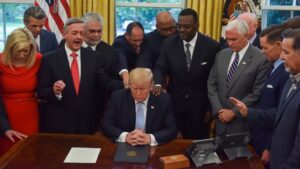 President Donald Trump is said to have secretly petitioned the Vatican to be added to a list of perspective martyrs. The president, according to an unnamed White House source, believes that "no one since Jesus Christ has someone faced as much adversity in trying to perform the good he has."
The source said that the "unfounded  impeachment proceedings as well as the constant criticism the President has endured since he was old enough to collect rent checks from his father's tenants has been the motivating factor for him in to bring about so many positive changes in the world."
The request the White Office submitted to the Vatican included a number of accomplishments "that only a man like Donald J. Trump could do, such as vastly improving health care for millions of Americans by denying it to many, balancing the national debt by devising an alternative system of mathematics and building a freedom wall to keep all Americans safe from invading hordes.  And by the way, little known fact but the J stands for Jesus," added the person who was not authorized to speak publicly about the matter.
Trump was said to have told close members of his inner circle that he had his revelation of his path to 'beatification' when he realized that often times those around him would utter 'Jesus Christ' after he said or did something. The spokesperson said the president "also believes that although he has been accused of  being married multiple times while engaging in illicit affairs, cheated charities, steered companies into bankruptcy and repeatedly lied and insulted hundreds of people, places and things no one is perfect. But he's close."
The petition was reportedly given to the Pope at a meeting arranged by Trump's personal lawyer Rudy Giuliani and included Jerry Falwell Jr. and Secretary of State Mike Pompeo. As a backup, according  to the source, the president also sent his son in law Jared Kushner to Israel in an attempt to get the Jewish state to have Trump added to the Forest of Martyrs, a site dedicated to those who perished in the Holocaust.
Gil Prowler writes political and social commentary.