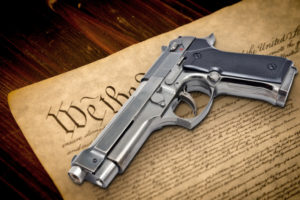 A political action committee (PAC) said to be aligned with President Donald Trump reportedly plans on putting a referendum on ballots throughout the country this November that would give voters a voice in repositioning the order of the Constitutional amendments.
The move by TITT (Trump In Twenty-Twenty), a PAC controlled by Baron Trump, is seen as an effort to stimulate the president's base to come out and vote in the mid-term elections thereby boosting the GOP's efforts to retain control of Congress.
According to an anonymous source within the White House, the president sees this an opportunity to move the 2nd Amendment, popularly known as the 'right to bear arms', into the top spot. By so doing it would displace what the White House believes to be a "flawed" 1st Amendment that protects the right to free speech and the press.
Trump is quoted as having said he'd like to see the current first place holder "tumble out of the top ten to a position where no one even remembers it. I can't tell you what comes after two and I'm the president."
Professor Dewey Desamil, a constitutional scholar at Barnyard University, says moving the Amendments around is uncharted territory. "The order of the first ten Amendments, also known as The Bill of Rights, was a decision the founding fathers made based on the wording of the Constitution. So, in practice and theory, their placement has no bearing on their importance, each one carrying as much weight as the next. Still, it's an interesting question."
The White House is also said to be considering introducing legislation that would tackle the mounting deficit. They are expected to propose moving to a 'wood standard' which will allow the country to wipe out both the national debt and unused forests at the same time. They believe that the Bureau of Land Management would go along with anything to keep its' funding.
Said the source, "Laws are made to be broken as well as ignored, flaunted and changed. Anyway, who's going to stop us? Certainly not a Republican congress."