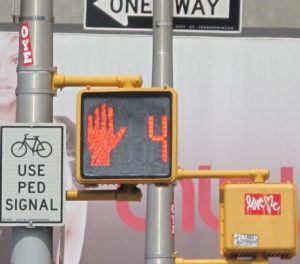 A man in Baltimore, Maryland, who was pictured on Twitter stepping off a curb before the signal turned green, has been shamed by  'Twitter Karen' and over three hundred and sixty thousand others. The man, identified as Seth Jackson, became the focus of scorn by twits who said he showed a total disregard for the law and set a bad example for anyone who has obeyed signals at crosswalks.
Soon after the tweet was uploaded by Karen@Karenknows it became viral as a trending topic. Captioned "Who does that!" Karen complained that while she and others waited for the light to change she saw Jackson "take a step off the curb before the 'Walk' sign flashed."
Some of the comments condemning Jackson, who later identified himself as of mixed race, included references to 'white privilege', 'black rage', 'libtard, 'Trumpkin, 'misogynistic', 'wanker' and 'child molester'.
Other Twitter users came to Jackson's defense by referring to those who berated Jackson with references to 'white privilege', 'black rage', 'libtard, 'Trumpkin, 'misogynistic', 'wanker' and 'child molester'.
When reached by a reporter Jackson, who is thirty-seven, said he doesn't have a Twitter account so he was unaware of the outrage nor how he was identified. "I'm not sure how they figured out it was me but as the saying goes, 'snitches get stitches'. Anyways', I was just visiting from New York where if you stay on the curb waiting for the light to change you're looked at like some sort of retard."
Following his remark using the term 'retard' Jackson was again criticized, this time by over six hundred and eighty thousand Twitter users, most notably Khloe Kardashian who earlier had been roundly condemned for using the 'R' word.
Police officials in Baltimore, often ranked as not only the nation's most dangerous city but also one with the country's largest bed bug infestation, put out a statement that read in part, "While we ask all citizens of Charm City to report any and all criminal activity we request that at this time you don't bother us with this kind of stuff."
A Go Fund Me page has been set up for contributions to help defray costs that Jackson may face should he be prosecuted. At press time it had over eleven dollars.
Gil Prowler writes satirical and social commentary.