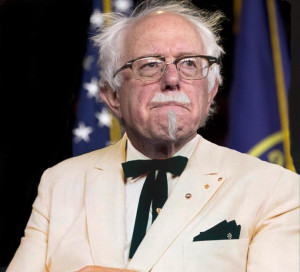 A super PAC associated with the Hillary Clinton campaign is reportedly going to release a television commercial beginning in South Carolina that suggests Senator Bernie Sanders and Colonel Harland Sanders, the semi fictional Kentucky Fried Chicken founder, are related.
The Clinton camp went on to suggest that those who are considering voting for Mr. Sanders should ask themselves what, if any, family influence the Colonel's empire and his association with the 'old' south may have had with the Senator. Assertions from the nonprofit PAC 'WalSrt' offered no further details as to the source or reliability of the information.
Some political analysts, however, believe that Clinton may have misjudged the effect such a charge would have. A survey among likely voters in the deep South found that their love for fried chicken cut across all racial, gender and age groups. In addition, the results also indicated that although the unsubstantiated relationship may sway some previous Sanders voters to endorse Clinton an equal number of Donald Trump supporters are expected to cross party lines and cast their vote for him.
The allegations, vehemently denied by the Sanders supporters, seems to be the Clinton response to charges by the Vermont Senator concerning campaign contributions she has taken. He had questioned if the millions of dollars the former First Lady, New York Senator, Secretary of State and both a former and current candidate for President has accepted along the way from special interest groups, well heeled donors and speaking engagements could have influenced her. Or somehow not.
This comes at the heels of the much-criticized actions of Republican Senator Ted '2 Lies' Cruz's campaign in winning the Iowa caucus. In addition to cobbling together misleading information suggesting Ben Carson was dropping out of the race his campaign also sent out mailers threatening to publish names of those guilty of a non existent 'voting violation'. Supporters of the Canadian politician reportedly have notified voters in coming elections of the possibility of searching through their trash for receipts proving they had voted and herding others in cattle cars to transport them to the polls.
The Cruz campaign also issued a press release saying that the late President Richard Nixon has endorsed him.
Gil Prowler writes political and social commentary.