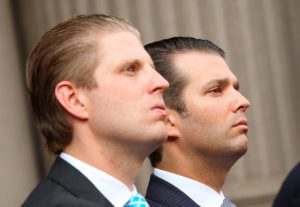 An Immigration and Customs Enforcement (ICE) error reportedly separated Eric and Donald Trump Jr. from their parents when they wandered off as the family entered the United States from an overseas trip. The eldest sons of President Donald Trump and stepmother Melania were said to be visibly distraught as they were whisked away while the President was preoccupied searching the tarmac for the First Lady.
The source for the report, a high-ranking Homeland Security official, was in the room when the terrified boys were brought in. Despite their plaintive wails and unaware of their lineage an ICE agent told them in both Spanish and English of the possibility they may never see their parents again. The two were also made aware that as their case was processed they would likely be housed in the toy department of a converted Walmart with the offspring of other detainees.
"They cried like you'd expect from kids taken away from the only provider they ever knew," said the official. "Faced with a life of having to earn a living back across the border using just their own wits and personality both were willing to trade information on what they said was 'a lot of really, really bad stuff ' in return for their freedom."
It was Don Jr. who initially offered to cooperate with authorities after he was denied his  request to use the men's room. Later, according to a source, he became confused and agitated when given a choice of using either bathrooms depicting stick figures of both a man and woman on the door or other stalls labeled 'Gender Neutral'. His indecision resulted in, as younger brother Eric gleefully pointed out, a "clean up in aisle nine."
When told of his sons detention President Trump was forced to suspend the search for his wayward wife and intervene. Shortly after that the boys were allowed to leave the holding facility accompanied by Vice President Pence and a change of clothes.
The White House had no comment when asked about the incident nor did the current Mrs. Trump who was later found leaving a personal trainer's studio in SoHo.
Gil Prowler writes political and social commentary.