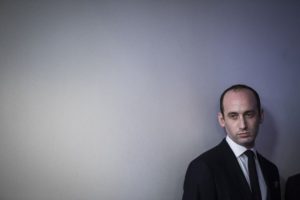 A classified report from the Department of Homeland Security is said to implicate senior White House advisor Steven Miller's recurrence of his life long struggle with vampirism in the disappearance of migrant children separated from their parents at the border.
The disease causes a dramatic decline of human blood in individuals and as a result those precious bodily fluids need to be refilled on a near daily basis. Vampirism can, among other symptoms, lead to a loss of empathy as well as an aversion to being seen in the light of day.
In that vein, according to a Department of Homeland Security source, Miller is being investigated for possibly using his position in the White House to ship cages stocked with migrant children to unidentified regions throughout the country for 'storage'.
"Homeland became aware of Miller's involvement when they began to trace the whereabouts of the thousands of children who have simply vanished," said the source. "Before the kids were sent off Miller was said to have asked for the results of medical exams of random groups of children for 'quality assurance'.
"He was the primary architect of the President's order to drop ship children around the country and it appears some down stream distributions may have been off the books. Now, with little or no records of the underage and mostly virgin children their whereabouts continues to be an ongoing mystery. The missing link in finding these kids appears to be Miller."
Prior to his roundly criticized recommendation to forcibly separate families, Miller's work in the White House has led to a number of policy miscalculations. He was considered the driving force behind President Trump's sudden executive order restricting immigration, the president's unsubstantiated claims of voter fraud and insisting on counting the silverware after state dinners.
Prior to working with the President, Miller had been an aide to Republican representative Michele Bachmann and Senator Jeff Sessions where the first symptoms of his abhorrent behavior could easily be overlooked.
Gil Prowler writes satirical and social commentary.