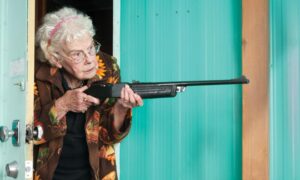 Gun sales, which fell by double digits following Donald Trumps election, are shooting back up again with help from some unlikely customers. Former gun control activists, life long liberals and terrified middle class white people are purchasing weapons at a record clip and sales are expected to rise even further.
Mark Dunham, the owner of 'Shots Fired' a gun shop in Oakland, California, noticed an uptick in purchases by first time buyers from San Francisco and Marin County since Trump was elected. Dunham, who is also a police officer currently on disability, had seen a drop in business as many of his long time clients didn't rush in as they had following past elections.
"Obama was great for business. It didn't matter how many guns my customers already had, any time some Democrat got elected they thought they had to buy more before the government came to take them away. This year, after Trump and the Republicans won,  my sales were the lowest they'd been in eight years."
Now they're back up and many of the people who walk in to his shop don't fit the stereotypical gun owner. Gary, an orthodontist who would only give his first name, had never thought of purchasing a gun before but was buying one today.
"I come from a liberal middle class family that would never allow a gun in the house. We didn't even discuss it. I suppose that's because we believed that most Americans were basically levelheaded people who cared about others. But after this election it seems that one out of every two voters in this country is nuts. And they already have guns."
Eleanor Harrison, a retired teacher, left the store carrying a box packed with a shotgun and a well-worn Whole Foods bag filled with buckshot. "I always warned my students that guns were the first step to the last one in their lives. Well, that's changed. If Mr. Trump thinks he's going to take Obamacare from me he'll have to pry it from my cold, dead hands."
Another patron, Kevin Porter, was wearing a T-shirt with the slogan 'I'm Moving to the Grassy Knoll', a reference to the assassination of President John F. Kennedy,  while he stood in front of the counter waving a Glock.
"You know, I probably shouldn't be wearing this shirt and looking at guns but I don't care." said Porter, an unemployed social worker.  "Two, maybe three years from now all those suckers who thought Trump was the answer are gonna realize they'd been had and they're gonna take to the streets. Class warfare ain't pretty and I wanna be ready."
"It really is an untapped market." Dunham said as he gently pushed the barrel of the gun Porter was holding away from him."You figure they're thousands, maybe closer to fifty million people, who never thought they'd have a reason to own a firearm and now many of them can't wait to buy two or three."
But at 'Cock, Lock and Load' a gun store outside of Portland, Oregon, Frank Lynn the owner had mixed feelings about some of his new clients. "They kind of scare me, they're different. They're polite, have good credit, dress nice and got a bunch of happy bumper stickers on their electric cars but who knows what radical ideas they have.
"I gotta say I'm not all that comfortable selling to some of them but that never stopped me in the past. It does make you wonder, though, if some people shouldn't own guns."
A spokesperson for the NRA said that "anyone who wants to arm themselves has that right thanks to the grace of God and the 2nd Amendment. And if the reason they're buying a gun is because they finally realized the world they thought they lived in doesn't exist, well, who can blame them."
Gil Prowler writes political and social commentary.