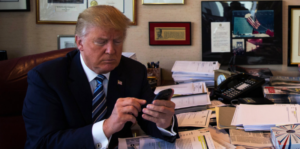 Russian agents posing as a Nigerian prince reportedly hacked President Donald J Trump's private email address months before he accepted his party's nomination. However, unlike the Democrats' National Committee breach that resulted in the release of embarrassing documents, the agents appear to have forwarded Mr. Trump a series of political strategies for him to consider.
The source, a high-ranking American intelligence official, said that initially Mr. Trump was contacted through an email that purported to be from Prince Nararme from Nigeria. The messages did not ask for money, as is often the case in internet scams, but rather were "very, very complimentary to Mr. Trump and it soon blossomed into a close relationship."
Prince Nararme, however, was actually a Russian agent who found him on a 'whim'.
"The operation was really the result of some low level spook in Moscow who went trolling Trump.  All they had to do to keep his trust was tell him things that he had already said about himself," the source added.
The Prince become one of Mr. Trumps few close advisors and helped shape his 'vision'. Some of those conversations were thought to be the basis for a number of Mr. Trump's controversial positions, many of which are considered to be contrary to American values. They include rounding up Mexicans and Muslims living in the United States (both legally and illegally), dropping support for our NATO allies, belittling anyone who crossed his path, including the Pope, and inciting political violence.
In one of the most stunning exchanges it was reported that Prince Narame made an offer to have a 'friend' hack into the DNC and publish damaging emails should Mr. Trump win the Republican Party's nomination. After doing so Narame was said to have asked if Mr. Trump would put in a good word for a mutual friend, Russian President Vladimir Putin.
Mr. Trump reacted with unexpected enthusiasm publicly asking the Russians for their help to further hack into American emails and incorrectly stating that they had not invaded parts of Ukraine. He also lauded Mr. Putin, a man considered to be a direct threat to the security of the United States. Although that played well in the Kremlin's hallways it also raised some red flags in Moscow's backrooms about Trump's "lack of any situational awareness."
The source said that after Mr. Trump insulted a fallen American soldier's family and then a crying baby the foreign agents wanted to "run away as fast as they could. They didn't want the credit or the blame for what he'd do next. They had the supposed Prince email Mr. Trump a request for money to help his sick grandmother get an operation. Mr. Trump never got back to them."
When asked to comment on the story a spokesperson for President Trump accused the reporter of "being beyond stupid."
Gil Prowler writes political and social commentary.