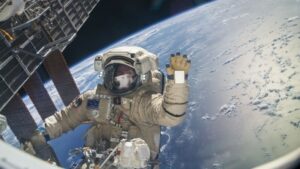 President Donald Trump was said to have considered destroying the International Space Station when he confused its initials of I.S.S. with the Islamic State terrorist's organization's abbreviation I.S.I.S.
According to an anonymous whistleblower, Trump became visibly upset after reading the index card the president's advisors use to sum up the day's events'. The President mentioned his concern that the country was directly threatened by a terrorist off shoot to a group of Republican Senators, cabinet officials and a pack of 4-H Club members visiting the Oval Office.   Trump was said to go "ballistic, saying that now the fake news will say wiping the terrorists off the face of the Earth wasn't good enough. That he had let them get away. He then began to put in motion tasking the newly founded Space Force to blow it out of the sky".
The source, who was present at the time, said It was only after the intervention of one of the many full time 'maintenance crews' stationed throughout the White House was the president made aware of the blunder. He said the worker grabbed Trump's son, and sometime junior science advisor, Barron as he left the meeting. Shortly after that the boy skipped ahead to presumably tell his father of the mix-up.
At a meeting shortly after that in the Oval Office the president reportedly asked the Honorary First Space Cadet on the program, Vice President Mike Pence, if the International Space Station was considered a threat. Pence was said to have showed Trump a picture of  members of the orbiting crew pointing out "that many white people can't be terrorists".
The president then headed back around his executive desk and dialed the 800 number he had been given by the Joint Chiefs of Staff to call whenever he 'had an itch to scratch'. He then he spoke with an 'engagement counselor' who canceled his previous order."
The president was said to quickly pivot to his next project, replacing the English alphabet with an American version.
Gil Prowler writes satirical and social commentary.