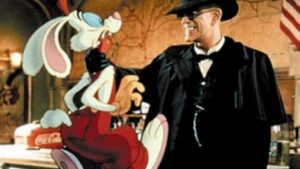 Democrats in Congress are said to be pushing for an investigation as to whether there may have been unindicted co-conspirators involved in the unsuccessful framing of political activist Roger Rabbit.  The sensational case, dating back to the 1940's, was considered closed when Judge Doom, a corrupt superior court judge serving in Los Angeles, died as a result of a chemical spill.
According to a freshman member of Congress, who asked to be identified only by the initial's AOC, interest in the matter came up after a late night squad of representatives attended a viewing of the 1988 film "Who Framed Roger Rabbit" at a Georgetown movie house. The film depicts the gutting of a city-wide rail system in order for others to profit from the increased use of motorized vehicles.
After seeing what the source called "the doucu-mation", which she described as a mix of a documentary and animation, she and "other woke representatives will swiftly seek to convene a congressional oversight committee to look into what we intend to prove is an ongoing conspiracy by ultra conservative PAC's representing big oil, auto makers and car washes.  This decades long disregard for working class people has contributed to the City of Los Angeles's unhealthy environmental conditions, rampant homelessness and long waits at the DMV.
"The  docu-mation's conclusion," she added, "that only one person was involved in such a large scale undertaking is simply another white wash by a bunch of old white men."
In related news, Republicans in the Senate announced they planned on discussing all upcoming legislation behind closed doors.  In a news release left on a bench outside the Senate Chamber, the note said GOP Senators felt the move was necessary "to avoid the time consuming distractions of public comments and dissenting opinions. Thanks to this streamlining, as guaranteed in the Constitution, we expect the Republican majority to push through legislation and appointments at a record pace."
When asked where the Constitution gave the Senate the right to pass laws and govern without public review a spokesperson responded, "You're so smart you figure it out."
Gil Prowler writes political and social commentary.