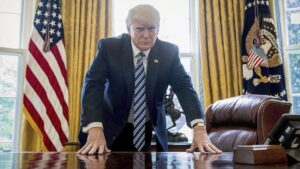 Fox News is said to be in negotiations with President Donald Trump to co-produce a reality show tied to his re-election campaign. The program, tentatively titled "The Emissary", will pit selected high end contributors to the Republican party and GOP members of the Senate, reportedly including Mitch McConnell and Lindsey Graham, as they compete against each other in various challenges modeled after the reality show "The Apprentice".
Plans are also being drawn up to renovate the foyer of the White House to accommodate its use as a studio as well as a 'People's Lobby' to include retail stores.
In one rumored challenge the players will compete to get sponsors to bid for the opportunity to promote products that can be branded  "As Seen In The White House".  The winning items will be displayed in the Oval Office, the Brady Press Briefing Room and throughout public areas. "Some examples of sponsors our participants may approach could be drug companies, gun manufacturers and Kool Aid," said a spokesperson who spoke off the record as the contracts have yet to be finalized
Another project being put forward is the selling of time shares to buyers, or 'Ambassadors', at Trump properties proposed to be built in Pyongyang, North Korea; Ankara, Turkey and Moscow. "These are, of course, only make-believe locations," said the spokesperson, "with undisclosed funding, signed permits and tentative opening dates scheduled sometime mid to late 2021."
Although Trump is quoted as once saying that reality television "was for the bottom feeders of society" he now believes that without those viewers he wouldn't be president.  Said a Fox News representative, "we see this as a means to further reach the coveted audience that such programming appeals to such as the unemployed, under educated and easily misled viewers that the Fox network is known for.  It's the kind of demographic we need to exploit."
The President is scheduled to be joined by co-hosts Ivanka and Melania Trump to announce the winners at the Republican Party's National convention in August of 2020.
Gil Prowler writes political and social commentary.