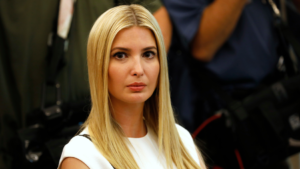 Ivanka Trump, an advisor to President Donald Trump, is reportedly scheduled to embark on a fact-finding trip to Disneyworld's EPCOT's exhibits of international countries to bolster her foreign affairs credentials. According to an aide, who spoke off the record, Ms. Trump "sees this as an opportunity to get valuable high-heeled boots on the ground experience while gaining real world insights and further enhancing her diplomatic portfolio".
Described as a 'working vacation', as are most of her trips, Ms. Trump will meet with local representatives who happen to be on duty. The whirlwind trip is expected to take about two days and will include visits to the French, Japanese, Moroccan, British and Canadian exhibits on the first day.
Later that evening Ms.Trump will host a gala at the United States site. Invited guests at the reception will be served traditional American fare from locally sourced eatery's including McDonalds, Papa John's and Chick-fil-A.
The next day the 'First Daughter' is scheduled to spend time at the Mexican, Norwegian, Chinese, German and Italian regions. Ms. Trump is said to be looking forward to speaking with anyone who will listen about economic empowerment, job creation and the power of nepotism in the workplace.
Ivanka Trump, who is also the president's eldest daughter, has been wildly criticized for her lack of knowledge related to her advisory position in the White House. With a background in import-export sales, television reality judging and writing meaningless self-help books Ms. Trump has had little experience concerning affairs of state before being given the post.
Her husband Jared Kushner, who is also a senior advisor to the president, will accompany her and host a roundtable conference with Secretary of the Treasury Steven Mnuchin, Secretary of Commerce Wilbur Ross and other members of the administration discussing 'Monetary Lessons Learned From the Collapse of Disney Dollars'.
The trip to EPCOT is expected to cost taxpayers close to 1.3 million dollars to cover travel, security, lodging and souvenirs.
   Gil Prowler writes satirical and social commentary.