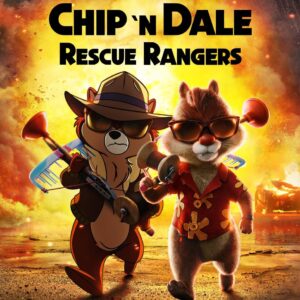 The recently released Disney film "Chip 'n Dale: Rescue Rangers" about the pair's search for a missing friend, was originally written as a fictional accounting of the hunt for Osama bin Laden after the attacks on September 11, 2001.
According to a high-ranking studio executive, who was not authorized to speak publicly about the matter, the initial concept was "way too dark and not the right vehicle for Chip and Dale'," said the source. "When their agents first pitched it, people in the room started to get their parking stubs to bring out to the valets.
"The prospect of another 'Howard The Duck' kerfuffle was on everyone's mind.  That these two beloved character actors would somehow become involved with ruthless terrorists, mass murder on a global scale and a twenty-year war that ended in chaos seemed like a nonstarter. Still, as an ensemble piece it had potential."
An unauthorized copy of the plot that the insider provided centered on Chip and Dale on the morning the World Trade Center fell. As they flee the fast moving remains of the twin towers Rudy Giuliani, as portrayed by an animated penguin, recognizes the duo as he scurries past. Before he is enveloped in a cloud of debris, 'America's Mayor' turns over his shoulder and pleads with them to find out who is responsible for the attack.
As the story progresses the furry duo, along with their sidekicks Monterey Jack, Gadget and Zipper, meet in the Oval Office with then President George W. Bush as depicted by Mad Magazine's cover boy Alfred E. Neuman. From there we follow the squad as they travel to a falafel stand in Detroit, a black ops site located just outside of Istanbul and a hookah bar somewhere in Afghanistan.
The rough draft ends with Chip and Dale rushing into a cave to engage in a firefight with Osama bin Laden, as portrayed by R. Crumb's Mr. Natural.  "With the outcome ending in a cliff hanger," added the studio big wig,"the writers intended to leave open the possibility of the film being the first in a tent pole franchise".
As it turned out about the only thing that survived the original version was the title, "Chip n' Dale: Rescue Rangers".  After numerous redactions and countless rewrites you can now see the sanitized version on Disney +.
Ask your cable provider for more details.
Gil Prowler writes political and social commentary