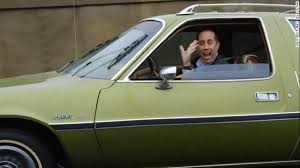 Branson, MO.
Jerry Seinfeld, former network star, was involved in an auto accident yesterday while filming an episode of "Comedians In Cars Getting Coffee" in Branson, Missouri. According to the Branson Police Department five people, including Mr. Seinfeld and guest comedian Yakov Smirnoff, suffered minor injuries.
Now entering its' tenth season the up and coming online show has nearly exhausted A, B, and C talent to interview. Mr. Seinfeld, 64, had flown into Branson on short notice when scheduled guest Kathy Griffin bowed out of the show at the last minute to appear at a store opening in Bakersfield, California.
According to his publicist, Mr. Seinfeld enlisted Mr. Smirnoff, known for his cold war 'What a Country' ramblings, was forced to go to Branson where Mr. Smirnoff was scheduled to perform. Following a long and turbulent flight Mr. Seinfeld's choices of vintage cars, often used in his opening, were limited and he ended up driving a 1987 Ford Aerostar mini van.
After six cups of 'nearly toxic coffee' at a local bait shop, Mr. Seinfeld and Mr. Smirnoff drove around Branson for almost three hours looking for an Acura automobile, the shows sponsor that is displayed in every episode. Not finding any Acura, let alone a late model version, Mr. Seinfeld become disoriented and drove up the sidewalk at a local Piggly Wiggly store striking three shoppers before crashing into an outdoor display of pork rinds.
Mr. Seinfeld was overheard complaining that the combination of jet lag, an inability to understand a word the heavily accented Mr. Smirnoff had said the entire day and the lack of a delicatessen in town all contributed to his misfortune.
According to some people at the scene as Mr. Seinfeld staggered off he was heard yelling in a high pitch voice "George? Where's George and Elaine?" After a brief search of the  area, however, it was determined that there were no other victims.
Another witness also mentioned that after looking at Mr. Seinfeld's license, a local state trooper was heard to say  'Oh, so this is what a New York Jew looks like'.
Gil Prowler writes political and social commentary.