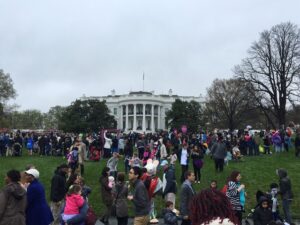 Preparing for what seems to be the inevitable change of administrations the White House is reportedly planning to hold a massive yard sale on the grounds of the Rose Garden sometime before the Christmas holidays.
According to a source who works in the Executive Mansion's housekeeping department, but speaking off the record, members of the White House Residence Staff are compiling a list of items deemed 'personal and/or nonessential' to be sold.
The cash only event is being billed "As Seen At The White House" and is expected to offer articles affixed with the Presidential seal and include silverware, throw rugs, towels, one of a kind collectors' items, works of art and assorted knick-knacks. Other members of the White House staff are also said to be putting together posts to prospective buyers on eBay, Craigslist and  in the QAnon classified section.
"We've been told," said the source " to collect anything that doesn't look like the next administration will miss it. The trouble is Biden was roaming the halls just a couple of years ago so we're pulling up old photos to compare to what's here now."
In addition to the public estate sale, plans are said to be underway to hold an invitation only auction in the Map Room of the White House.  Reportedly up for sale will be papers of 'historical nature' as well as never before seen documents, treaties and promissory notes. Sources also say President Donald Trump as well as other members of his family will be on hand to sign autographs.
The legality of the sale of property that has been gifted to a president or is in his possession is dubious says White House historian Brooks Wollman from Barnyard University.  "Rules governing the ownership of gifts and other items is determined by the National Park Service and depends on a number of factors including the source of the goods and the value of the items."
It's not unusual for past presidents to remove items for their own use said Wollman.  For example, former President Bill Clinton took possession of furniture and other pieces when he left office but after review by the N.P.S. some were either shipped back or paid for by the Clintons.
"Whatever the case," added Wollman, "the idea of having a yard sale on the White House lawn on the scale being considered is appalling."
First Lady Melania Trump, who with the White House Chief Usher oversees the day to day operation of the building, was unavailable for comment. It's believed she is working on a draft of a book detailing her life with the president.
The bidding from publishers is expected to start at one million dollars for her much anticipated memoirs. However, bids from those who do not want any of her observations made public are likely to exceed well over two hundred million dollars.
Gil Prowler writes political and social commentary