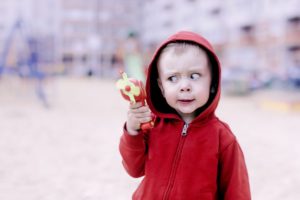 Hoping to deflect the criticism for their unending opposition to gun control measures, the National Rifle Association has given the go ahead to members of the Republican party to propose legislation that would forbid the sale of BB guns, cap guns and water guns carried outside of pools, to anyone under twenty-one.
The decision to introduce the bill comes after years of mass shootings with assault rifles at  schools, concerts, churches and just about everywhere people gather.
"I think we have to be seen doing something however small and insignificant it may be, " said a NRA spokeswoman, who did not wish to be named. "As an organization whose goal it is to put a firearm within easy reach of every semi-law abiding citizen, we now believe that some juveniles should not be left alone to play with guns."
A Republican spokesperson, also speaking anonymously, said that the choice to join forces with the NRA was an easy one. "We owe so much to the organization, and I mean a lot, that working with them on this is a no-brainer.
"There may some Democrats, radical do gooders,  grieving mothers and fathers as well as the majority of Americans who might think this proposed statue doesn't go far enough but they have their own self centered agendas."
Complicating steps to enact a bill, however, is President Trump's reported refusal to consider legislation of any kind unless it includes building a wall at the Mexican border.
"The president believes that without a wall the mass shootings of Americans will never end," said a person familiar with Trumps shifting thoughts and actions.
When asked about his position on the mentally ill legally possessing firearms the president reportedly said, "Frankly in America, you'd have to be crazy not to own a gun, although personally I just need my bare hands."
Gil Prowler writes political and social commentary.