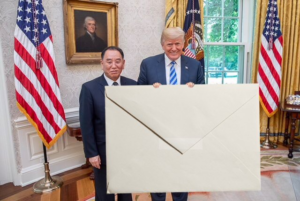 President Donald Trump has reportedly asked Attorney General William Barr to put in motion a federal lawsuit targeting the United States Postal Service if it used his likeness without his expressed written or implied consent. The move comes after the White House had earlier rejected a bail-out of the debt ridden Post Office and looks to hinder its ability to process mail in ballots.
A source within the Administration, but who was not authorized to speak publicly about the matter, says Trump complained to Barr about the possibility that his picture was "nailed, stapled or hanging in every Post Office in the country without the Trump Organization receiving any compensation."
Barr was said to advise the president that the Justice Department could both prosecute and defend the Post Office at the same time. "And," Barr reportedly added, "we know how that will end up."
Trump has spoken frequently about his disdain for the Post Office.  Once calling it a cut rate "delivery boy" for companies such as Amazon, Trump has also blamed illegal immigrants who he believes "mail stuff for free" and the agency's rule that prohibits sending alcohol through the mail, which many of the president's  followers oppose.
Said the source, "The president has also heard complaints from his supporters that they have become disoriented when asked by a postal clerk if their package is "fragile, liquid, perishable or potentially hazardous?"
If Trump does eliminate the Post Office, he'll stamp out a department whose roots date back to 1775 when it was created by Benjamin Franklin and is one of the few government agencies explicitly authorized by the United States Constitution. In addition, about eighteen percent of its workforce, or nearly 113,000 employees, are veterans making it second only to the Department of Defense for military hires.
When Trump finished discussing the USPS situation with Barr he was said to ask the Attorney General if it was possible to move the Second Amendment into first place.  Barr reportedly told the president he'd look into it.
Gil Prowler writes political and social commentary.